"To provide meals and share our experience, strength and hope with men and women early in their recovery through our walk in faith and our journey in sobriety"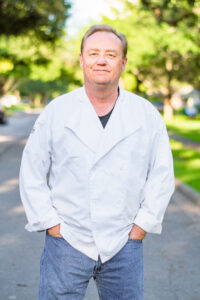 Founded by Michael McCoy in 2021, Chef to the Shelters provides meals which speak of dignity and respect to sober transition homes and sober living homes to men and women in early sobriety who have taken their first steps in recovery to regain their lives. 
McCoy's career path has included National Sales and on-property sales for a Hilton Hotels Corporation, Director of Corporate Sales for Lone Star Park at Grand Prairie, Director of Sales for Anaheim Sports Inc. and the Anaheim Ducks/Angels organization, Vice President of Sales for Southwest Sports Group where he oversaw sales for the Texas Rangers, Dallas Stars, Mesquite Rodeo and the opening of the American Airlines Center, Vice President of the Phoenix Coyotes and the opening of their new arena, Vice President of Business Development for Stewart Title & Trust of Arizona for 9 years until he burnt it all down from his alcoholism and drug abuse. 
Mike found his sobriety on 4/8/18 in Phoenix, Arizona. Shortly after gaining his sobriety, he became homeless from Father's Day in 2018 until he returned to Texas in March of 2019. In his first year of sobriety, he experienced many things that he has embraced to share with other men and women in their first year of sobriety which includes meals that speak of dignity and respect. Shortly after his start back in commercial real estate in Dallas, he began cooking pro bono for Dallas 24 Hour Club as a way to give back to a community he is very involved. He also began doing work as a Private Chef for clients in Dallas and Park Cities area. Along his journey, he was humbled with the opportunity to cook in Berckmans Place for the Members of Augusta National Golf Club during Masters week in 2021. Shortly after that, four chefs he worked with at the Masters joined him for two fundraisers at his home in Allen which has turned into the formation of his nonprofit. Chef Zachary Atkins, Chef Christian Hernandez and Chef Stephon Cook are joining him in Dallas in January of 2021 to help buildout CttS with the goal in year one to feed 130,000 men and women in early sobriety. Chef Tammie Cook will join the team for their marquis events while her daughter finishes her senior year in high school. 
McCoy continues to feed 27 sober transition shelters, sober detox centers and sober living homes totaling more than 500 men and women out of his home in Allen, Texas on a monthly basis. 
The formation of the Board of Director's was established in May of 2021. Their efforts and support have spurred McCoy and CttS to begin their search for a building to operate from. In additional to providing meals to those in early sobriety, they will also have a six month program to teach men and women, with a year or more of sobriety, skills in the front and back of house to assist them in their pursuit of employment while being active in their recovery process.