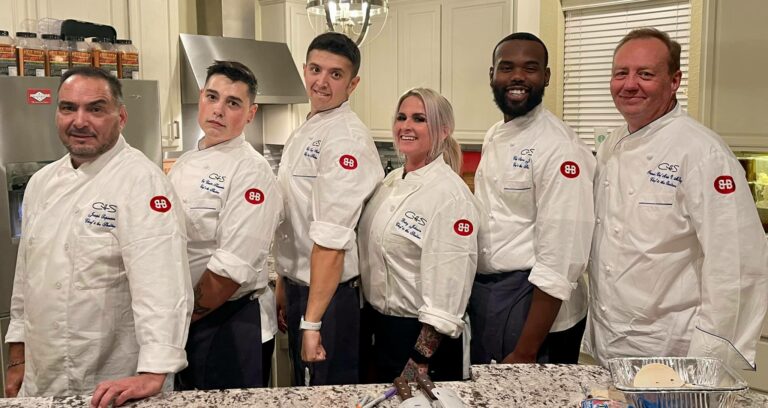 "My mission is to provide meals and share our experience, strength and hope with men and women
early in their recovery through our walk in faith and our journey in sobriety."
Mike McCoy, Chef to the Shelters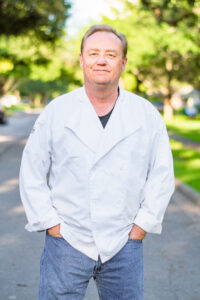 Mike McCoy is a self-taught chef who created Chef to the Shelters, a North Texas-based non-profit that caters and donates meals to 34 sober living homes and addiction treatment shelters and facilities.
Mike spent almost a decade as a professional sports executive including sales leadership roles with the Texas Rangers, Dallas Stars, Lone Star Park, and American Airlines Center. He transitioned to commercial real estate for another decade until his addiction to drugs and alcohol became insurmountable obstacles to his career and health. He sought and gained sobriety in April 2018.
Living in his car during his first 10 months of sobriety, Mike persevered. Housed and sober, Mike joined Capital Title's National Services Division as a vice president in 2019. His first foray into catering came on Thanksgiving 2019, where he prepared a meal for the residents at the Dallas 24 Hour Club to give back to and connect with those struggling with addiction.
During the COVID-10 pandemic, Mike pivoted from business development to catering for Capital Title employees. He taught himself cooking techniques from studying Culinary Institute of America textbooks and practicing in his home. His innate talent for cooking and a passion to expand his meal delivery to the local sober living community led him to create Chef to the Shelters in 2021.
That year, Mike was invited to join the culinary team at Augusta National Golf Club which swells every year to accommodate players, sponsors, and guests of the Masters Tournament.  Mike worked in Berckmans' Place kitchen, the most exclusive venue at the Masters, alongside some of America's most talented chefs, to cook for Augusta members and their guests. Two short years later, Mike was awarded the "White Jacket," signifying success and leadership.
 Today, Mike McCoy's Chef to the Shelters prepares and delivers more than 1200 meals to 34 area sober living homes and shelters each month. Additionally, he serves as a private chef and caterer for business and private events, and fundraisers. Mike has been gratefully sober for 1962 days and counting.